The Volunteering Awards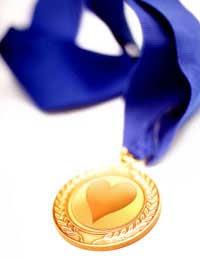 When it comes to the range of volunteering awards available to people who want to recognise others for their service, the list is almost endless. Each sector has its own set of awards, each organisation may do. There are volunteering awards given by councils, by higher and further education institutions and by representative organisations. But when it comes to the most prestigious of all volunteering awards, in the UK, it gets no higher than the Queen's Award for Voluntary Service. This award was handed out for the first time in 2002 to mark the Queen's Golden Jubilee and continues to be given yearly to deserving people and groups.
What Is It For?
The award is open to any voluntary group in the UK – but there must be at least two people in the group. These groups should have carried out some kind of work, for no financial gain, which is of benefit to society as a whole, either in a social, economic or environmental way. The work they do must be of benefit to people who have a specific need and it must be recognised by people who live locally. Crucially, the voluntary organisation has to be run locally – and not be a central charity. The groups need to have been in existence for at least three years.
What Happens if You Win?
The winners are chosen by judges, under a number of category headings for those who meet the criteria. The judges should be a panel of people who reflect the area and communities the nominees serve. They should be a cross section of society and include representatives from arts, sport, local government and so on. Importantly, there are no fixed numbers of winners – this means that groups which deserve the award do not miss out because a 'quota' has been filled. Once the judges have chosen, they send the list off to the Queen so that she can approve them!
Winners will then be told and when the winners are publicly announced, their names will go into the London Gazette. The prize is a certificate signed by the Queen herself and a crystal trophy. Usually, some people from the group are invited to attend a royal garden party in recognition of their hard work and service to the communities in which they live.
Although the award brings no financial gain, because volunteers work so hard for nothing, they do not tend to be motivated for money. A far greater reward is that someone appreciates the work that they are doing. And while awards are nice to receive, the people who most volunteers want to appreciate what they are doing are those most in need – the people who they are trying to help. Therefore, the Queen's Award for Voluntary Service is especially valuable because it does exactly that – proves that the volunteers are making a difference to the lives of people they set out to help in the first instance. The fact that they are personally from the Queen is, of course, added kudos.
RESPONSIBLE CITIZEN IS FOR SALE.
This website is for sale [more info].
You might also like...