Dimensions For a Wheelchair or Pushchair Ramp?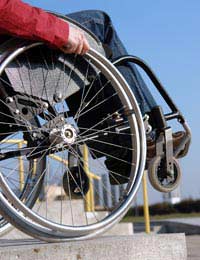 Q.
Is there a set height, width, depth and degree of slope if we build a concrete ramp to our church hall?
We have an existing ramp but would like to redesign the front of our building and acknowledge legislation has changed since we put the old one in.
(B.W, 28 February 2009)

A.
The Disability Discrimination Act which came into effect in 2004 does state that all premises should make sure there are no impediments to disabled people gaining access. And the most straightforward way of doing this is if your premises have steps is to either build a ramp or use a portable, removable ramp.
There are no set in stone dimensions that a ramp needs to be – however, obviously, if the building is going to be accessible to people in wheelchairs, there are certain measurements which should be borne in mind. Making sure people can use the ramps if they are in a wheelchair is the most important thing, otherwise it completely negates the point of having the ramp there in the first place. And this includes making sure they can push themselves up the ramp as well as making sure they can fit their wheelchair on the ramp.
The Disability Discrimination Act does give recommended measurements which people and businesses installing ramps should adhere to. The dimensions for width are really common sense, and it obviously makes sense, where possible, to make the ramp the full width of the doorway.
For ramps, the more important measurement is the gradient, because of course, a person in a wheelchair needs to be able to push themselves or be pushed up the ramp, and thus, it cannot be too steep. The best way to work it out is using a ratio. For every inch of step height, the ramp length should be in the ratio 1:15 for a permanently fixed ramp. A temporary ramp should use the ratio 1:12. But for the fixed ramp, this means a step which is six inches high needs a ramp of length seven feet and six inches.The ratio for assisted wheelchairs is far smaller – just 1:6. But because you will not be able to guarantee that all of the people coming into your premises will be assisted, it would therefore be unwise to use this measurement.
These are recommendations rather than must-dos. However, if any organisation is going to the trouble of installing a ramp to comply with legislation, then it makes sense to comply with the recommended sizes of ramp as well.
You might also like...