Questionnaire: Do You Have Time to Be a Volunteer?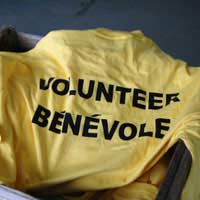 One of the most popular excuses people give for not volunteering more is that they do not have enough time.
And yes, it can be hard in our busy, fast-paced lives, to find time to devote to selfless helping of others.
However, with a little time management and some careful choosing of projects, most people do have time to volunteer – and even the busiest among us can make enough time to even encourage others to volunteer.
So, take the short quiz below to find out what kind of volunteering suits you and whether you do have time to do it.
1.The clock hands are ticking around to 5.30pm – what is going through your mind?
a) The amount of work you have to do before you can leave home
b) What you are going to cook the kids and other half for their dinner
c) It doesn't matter what time of day it is – revision can be done around the clock
d) What to wear that evening – you're meeting some friends for drinks straight after work
2.What's your most common weekend pastime?
a) Catching up on paperwork for work
b) Organising activities to keep the children entertained and visiting elderly relatives
c) Catching up on reading for university and working on job applications
d) Sleeping, getting glammed up and hitting the town again
3.How do you unwind?
a) A long soak in the bath – though you have to be careful not to doze off
b) You don't – there's always something to be done
c) Going out, having a few drinks with college friends and forgetting about the exam stress
d) Playing tennis or squash – sport is a great way to catch up with similarly inclined friends
4.What do people typically buy you as gifts?
a) Joke presents about being a workaholic
b) Bubble bath and soap – a hint to take it easy occasionally
c) Anything they think will come in handy at university
d) Clothes, shoes, make-up
5.What's your idea of a perfect date?
a) I don't have time for dates
b) Any night when the kids are in bed and I don't fall asleep
c) Pizza and a movie
d) Dinner, drinks and dancing
Mostly As
You have a busy life and one which places a lot of demands on you. However, you are also ideally placed to give plenty back to society – and despite what you might think, you do have time. Your busy and high-powered job means you are perfectly placed to try and instigate some kind of employee volunteering scheme or even an away day for the whole team where you could renovate a school garden or some such project.
Mostly Bs
You are being pulled in every direction by those who place demands on your time and efforts. If it isn't one thing, it's another. But this could actually mean that volunteering could be your chance to make some time for yourself. Although volunteering is, by its nature, about giving time to others, it can also be the perfect chance to recoup some time especially for you. You can hear children read at a primary school or spend time with elderly people who have no relatives. Both will prove to be both enjoyable and a relaxing use of your time – and a chance to get away from the people who think they have a right to place demands on you.
Mostly Cs
You are right to be concentrating on qualifications and a future career – however, volunteering can also have an impact on these things. Whatever volunteering you do will be beneficial to your CV and any prospective employer will be glad to see it there. In addition, if you are volunteering, you will be picking up vital transferable skills which will help you when you do start work.
Mostly Ds
You obviously have a busy life but it is all pleasure – and you would find your life enhanced by carving out some time for others. Give up one night out in order to volunteer and you will find enjoyment in that one night of volunteering as well as appreciate your other nights out even more.
You might also like...
Great interpretation of results. However, various optional interpretations and generalization are not applicable to everyone.
KWAME OTENG
- 24-Aug-19 @ 12:38 PM