How you Can Help Prevent Crime in your Community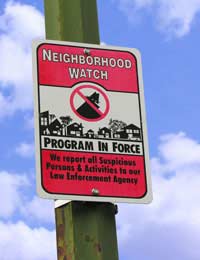 Crime and the fear of crime in a community is, of course, a real and prevalent problem in today's society. But that does not mean that there is nothing ordinary people can do to prevent it. No sensible person would advocate vigilante-ism but there are many steps people can take to prevent crime in their community – after all prevention is far better than cure, and never more so than in these circumstances. So, if people turn their minds to crime and the fear of crime they may wonder how you can help prevent crime in your community. There are several ways, and this article will seek to explore some of them.
Neighbourhood Watch Schemes
Neighbourhood watch schemes, both formal and informal, all have the same aims. These are to prevent crime and also eradicate the fear of crime. Within a watch group, the way members do this is by keeping an eye out for anything unusual or suspicious and reporting it to the chair of the scheme who will then hold meetings with the police. The local police officer will also be very visible to the group and in the community as a whole, helping to deter criminals and reassure vulnerable members of society as to their security. And, members of a watch scheme will often look out for these vulnerable people themselves. This may mean visiting an elderly neighbour or doing the shopping for someone who is housebound and lives alone. These little things help to reassure people that someone is looking out for them and provide a visible sign to any would-be criminals that these people are not alone.
Take Responsibility
One of the keys ways of ordinary members of society helping to prevent crime in their communities is by taking responsibility for that community. This responsibility takes many forms. It could mean, as a parent, making sure you always know where your children are, who they are with and what they are doing. If you do not know this, can you be sure that they are not causing trouble for other people. Equally, taking responsibility may mean joining some kind of local group aiming to better the neighbourhood in which you live. This may be something such as doing up a neglected garden which has been a magnet for vandals. By restoring its beauty, residents will take pride in it and the vandals will be less likely to return.
Don't Be Afraid
In recent years, people have become wary, fuelled by media reports of crime on the increase. And while it is right to take due care and sensible precautions, such as not walking alone late at night in deserted streets, if we leave the streets of our communities altogether, then we are leaving them to the criminals. So be aware of your surroundings but do not be unduly scared. For instance, if you see a group of youngsters hanging out, the chances are, they are not doing any harm. There is usually no need to be afraid of walking past them. Do not let perceived fear of crime affect the way you live your life – or criminals will be winning.
Vigilance and observation are the two main weapons communities have in their own fight against crime. Whatever the notion, people power can achieve things, and this includes making our communities safer and more welcoming places. Positivity and teamwork can change a lot – that should never be forgotten.
You might also like...