How to Travel Without Exploiting Other Cultures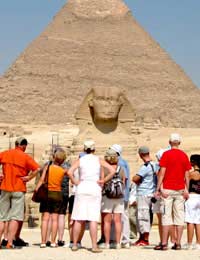 The question of how to travel without exploiting other cultures is one which has puzzled people ever since the notion of responsible tourism was first thought of. During the 20th century, travel became more widespread – however, it was not thought of that the pursuits of a advantaged few could damage the lives of others. However, as the world has grown smaller and a greater understanding of the world's needs been reached, so people have turned their minds to how their actions may have damaged the world and may do so if a different approach is not taken. This was made a priority for governments around the world in 2002 with the Cape Town Declaration.
What Damage Can be Done?
There is plenty of evidence to demonstrate what damage can be done to historic sites and natural wonders if tourism continues to grow unchecked, But the damage can also occur on a more social scale, with local people in popular tourist spots being exploited. Of course, tourism does bring with it great benefits in terms of an increase in income but it has to be carefully managed. Otherwise, the rich get richer, while the local people who have always lived in these towns and villages see little benefit. A good example of this is Cuba, where most tourism is state-run due to the government set-up. This means that tourists can spend thousands of pounds in a two week holiday but very little of it makes its way into the pockets of local people. But does this mean we should not go there? Very few people would agree that this is the case.
What Can Be Done?
In some countries, such as Cuba, the only way to circumvent the state and make sure that some of your money reaches the people who would benefit most is to tip, buy from markets and other local sources where possible, and visit places other than the big, purpose built resorts. In fact, this can be a good line to take anywhere in the world. Independent hotels will see more money going back into local economies than if you stay in big, faceless chains, and, you will probably have a better experience as a result as well. The same goes for shopping. Markets can be great fun, especially if you like haggling. But don't try to get away with a rock bottom price – remember who you are cheating – local people rather than big companies. Shop around, get an idea of a fair price and then haggle down to that, not below.
Of course, there are plenty of other things which can be done to help you travel responsibly and not exploit local cultures. If you want to go to places which are less commercial, then consider using a tour operator which prides itself on being responsible. They will be able to advise you as to where the money you are spending goes and what you can do to make sure your travelling is mutually beneficial to both you and the people who lives in the places you visit.
You might also like...