We Live With Anti-Social Behaviour: A Case Study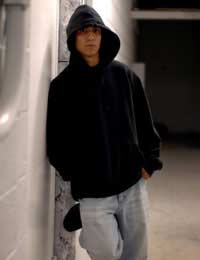 John and Sally saved up to buy their first home on a new estate despite rising house prices at the time. They met their neighbours and settled in happily – until a gang of youths started plaguing the area in which they live. Here they describe what it is like to live with anti-social behaviour on a daily basis.
"The estate we bought our house on seemed perfect," John says. "There were plenty of people our age and lots of families with children – perfect as we were thinking about starting our own family.""The schools were good and there was a good park within walking distance. It seemed like the perfect home."
The Problems Began
And yet, the couple had only been living in their home, their home which they worked so hard to buy, for six months, when problems began. One night, sally was driving home when she found one of the main roads into the estate blocked by the youths who would not move.
"That in itself was terrifying," she said. "And when I started to chat to our neighbours, I found that it had been happening to them as well.
"It's all very well saying that they are just kids, and that they hadn't done anything, but the menacing way they blocked that road off was enough to convince me that they meant trouble."
And it wasn't long before the fears of Sally and her neighbours were proved to be true. The youths moved further into the estate and started sitting on walls, drinking alcohol and smoking. They dropped beer cans on people's drives and swore at anyone who tried to tell them to stop. But because they haven't actually broken any laws, there is very little the families can do.
Living with Anti-Social Behaviour
John adds: "We've called the police but they keep telling us the same thing, that there isn't a lot they can do until they've broken some laws. "In the meantime, we have to put up with our lives being made a misery by this gang and stay in our homes at night, worried sick about what their next moves may be. They shout and swear at anyone who walks past and become increasingly obnoxious, the more drink they have had.
"We often find fences broken and a few people have discovered scratches on their cars which must be down to these gangs. But we can't prove that – when we are around they just content themselves with being thoroughly intimidating," he said.
"The parents on the estate are scared to let their children leave the house because of what they might say to them, and as for us, there's no way we would start a family while this is going on," he says.
"In fact, even the blokes amongst us are reluctant to walk around after dark alone. Let alone the women. We are effectively prisoners in our own homes. We drive everywhere because there is an underlying sense that it would just not be safe to walk.""Until you have lived it," he said, "you can't begin to imagine what life is like living with this over your head the whole time."
You might also like...
questionaire on how to measure anti social behaviour
aju
- 16-Jun-14 @ 5:45 AM