How I Got an ASBO: A Case Study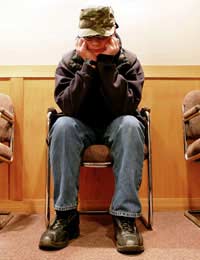 More and more people seem to have stories to tell about anti-social behaviour and how terrifying it can be, impacting on all areas of life. And that is one of the reasons the Government introduced ASBOs – as a way to punish people who may not have been committing serious crimes but were nonetheless making people's lives a misery.
ASBOs have since come in for a lot of criticism, with one of the biggest problems people have with them that many youths seem to see them as a badge of honour and something to actually be achieved. But here, James tells his story – an example of an ASBO actually working. He may not be the rule, but his story is proof that they can work on occasions.
Getting in with the Wrong Crowd
"I got an ASBO as a result of being led astray by the wrong crowd," James says. James came from a loving family home and did well at school. But he befriended Dan, who wasn't on the straight and narrow in the way James was."We started hanging around with groups of his friends a lot more," says James. "And really, it was a classic case of me trying to impress them in order to fit in."They would all be spending their time drinking and smoking dope rather than studying or going to work so I started bunking off school to show them I could be as 'cool' as them."
James' parents were aware that he had new friends but it was not until they were called to a meeting at his school that they realised the extent of his truancy. "But by that time, I was almost out of control," he says. "I had developed a rude, obnoxious streak and simply wouldn't listen to anything my parents told me."
As James spent more time getting drunk with his so-called friends, so his behaviour deteriorated. "I would join in the obscene shouting at girls and women, and challenge men and boys to fights. Looking back now, I can see how repugnant my behaviour and attitude was."
Issued with an ASBO
James never went as far as some of his group in mugging people and even carrying knives but his behaviour was bad enough for him to be cautioned by the police on several occasions. Eventually, he was issued with an ASBO which forbade him from seeing his friends or spending time in their usual haunts.
"Most of the other lads congratulated me on the ASBO," James recalls. "As if it were a badge of honour. But the reality was, I was terrified. And when I saw my photo in the paper, for all my former friends, my teachers and relatives to see, it was the wake-up call I needed."
Rebuilding His Life
James severed ties with his old group and set about abiding by his ASBO. His parents stood by him as he tried to rebuild his life and enrolled at college to complete his GCSEs.
"I'll always have that ASBO on my record," says James. "But it was exactly what I needed to snap me out of my behaviour – otherwise I dread to think where I would be now."
You might also like...