Children as Volunteers: What Can They Do?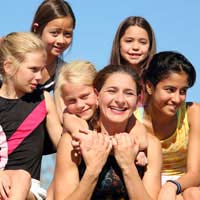 Many children will like the idea of volunteering and want to do so themselves. But naturally, there is a lot of red tape in this area and children's well-being must be protected at all costs. As children under 14 are not supposed to work at all, regardless of whether they are being paid or not, finding voluntary work for anyone under this age may be a struggle. But just because they cannot carry out organised volunteering does not mean children cannot help society – there are plenty of less structured ways children of all ages can get involved.
The Scouting Movement
Perhaps the biggest organisation for children who want to volunteer to learn more about what they can do is by joining scouts, guides or any of the younger groups associated with them. As well as giving children the opportunity to volunteer in a safe and well-run environment, scouts and guides also teaches children valuable life skills they will need when working – voluntary or paid.
Children can carry out various voluntary tasks for their various badges, such as helping elderly by doing their shopping or looking after the environment by picking up little. All of the activities will be thoroughly vetted and all of the adults involved with the project will be CRB cleared so parents can rest assured that children are helping society in a safe way.
Sponsored Events
Although not technically volunteering, sponsored events are a great way of children being allowed to help others through ways which use their skills. The youngest child can do a sponsored toddle, and, as children get older, they can begin to do other sponsored events, raising money for others who are less fortunate than they are. This teaches them a lot about responsibility and working for a result, as well as illustrating how much they have compared to others.
Organised Schemes for Teenagers
There are plenty of organised schemes for teenagers to volunteer through. Of course, once a child reaches 14, they may want to go directly to the charity and many charities will be glad to have them on board. However, organised schemes mean that parents can rest assured that children are in safe hands and children can make sure they are volunteering for organisations which both want and will benefit from their inclusion. Probably the most famous of these schemes is the Duke of Edinburgh awards which do not focus solely on volunteering but a whole range of other tests for young people. Many local authorities also offer an award, recognised by employers, which sees young people have to commit to completing a certain number of hours of voluntary work a week in return for the award.
The last thing anyone should try to do is to discourage young people from volunteering, whatever their age. Although it is less easy for children to contact a charity and volunteer, there are still plenty of things to do. And remember to encourage your child to seek out voluntary opportunities in non-structured organisations. For example, if an elderly neighbour needs shopping fetching, and your child wants to help, then that is volunteering – just as much as signing up with a charity for a formal role.
You might also like...