The Value of Volunteering to the UK Economy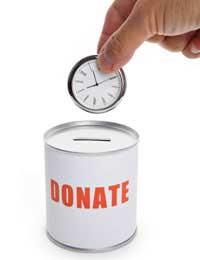 Volunteering in the UK is big business, just not in the ways you might at first imagine. It is fair to say that on the whole, the volunteers do not benefit from it in an economic sense, but it is also true that volunteering does have, without a doubt, an economic value. It is not easy to quantify the economic value of volunteering, as the acts which are carried out by volunteers are many and diverse, but without volunteers, many tasks would either not get done or would have to be carried out by people who need to be paid for it.
Volunteer Time Rather than Paid Time
Volunteer time can be looked at as something which offers the benefits of a worker for little or no cost. However, how to work out how much money is saved as a result of this is tricky. Firstly, there is the question of whether or not the organisation which the volunteer works for would be able to pay someone to do the same job of they did not have volunteers. If the answer is yes, then the value of the volunteer's time is roughly equal to how much it may cost to employ someone to do the same role. If the answer is no, then potentially, the value of volunteering is even greater when the cost of not having the work done is taken into account. For example, a garden may need tidying up but there is no-one to do it and no money to pay someone. The work does not then get done which, in turn, leads to rats overrunning the garden and exterminators having to be called in - a much greater cost than that of paying someone to do the garden. In this case, a volunteer's time would have an even greater value.
An Outlet for Skills
Volunteers usually pick up new skills and qualifications along the way – and in this case, volunteering provides an outlet for such skills. Even for people who are working, this has a knock on effect for the UK economy – and as for people who are not working, the value is even greater. Learning new skills and putting them into practice means that workers will have new skills to take back to their day job, resulting in a more productive and efficient workforce. Those people who volunteer but do not work either are also benefiting in a way which will hopefully eventually bring benefits to the economy as they will hopefully have renewed vigour for their job search as they start to feel valued as a worker and therefore, will have new skills and knowledge to help them get a job and get off any benefits they may be on.
Putting an actual figure on the value of volunteering is virtually impossible. The number of volunteers and the work which they do fluctuates constantly. But there is no doubt that volunteering is worth a sizeable amount to the economy. If the third sector accounts for somewhere in the region of 10 per cent of a country's GDP, then it is fair to argue that volunteering constitutes a good bulk of this as, unlike public sector work, volunteering really does involve getting workers for no cost.
You might also like...