Fascism Explained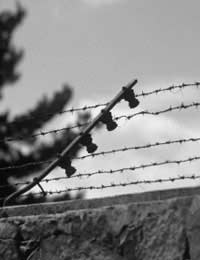 Explaining fascism is no easy task. It has proved a contentious and controversial subject over the years, and exactly what fascism is still creates heated debates, depending on whether the speaker believes it to be a form of Government, political ideology or a word used to describe a certain state of mind.
Basically though, fascism is a political term used to describe ideas and thoughts on the extreme far right of the political spectrum.
The Ideology
The ideology behind fascism is basically as far removed from communism as is possible to be. Fascism promotes the state and state objectives over and above the interests of society. The rights and wishes of the individual are also important – above the rights of the whole of society. However, this extends only as far as it coincides with the interests of the state. If there is a conflict, then the state will win out every time.
Fascists in the Past
The term fascism was first used to describe Mussolini's Italy and his Government was where it originated. The term then became used for Nazi Germany, among others. But while these regimes happily used the term fascist to describe themselves, nowadays, the term is inextricably linked with dictatorships and cruel regimes and, as such, is no longer used to describe a political party.
Totalitarianism
Totalitarianism is a defining feature of fascism. It means that the state ultimately has power over every aspect of an individual's life. It means that there is a single party political system in operation and this party will do anything, include exuding force, to make sure that its rules are adhered to.
The state is more than a Government, it is a virtually a religion, and must be exalted. The interests of the state come first – at any cost. But even more than the state exuding complete power is the cult of personality in action.
Both Hitler and Mussolini ruled their countries and their parties – they came first, over and above both. It is easy to see how this absolute power of an individual is corrupting, and soon the fascist leader will be demanding to be reverted by all people in the country, regardless of their actions.
Corruption of the Term
Because of the negative connotations to the word fascist, it has been used in many areas over the years. The problem now is that the term has passed into the modern vernacular, virtually as a synonym for a bully. It has lost its power and does not retain the shocking aspects which it once did when only used to describe political regimes.
Fascism is something that it is unlikely a consensus will ever be reached on – certainly as to its absolute meaning. One thing is for sure though, and that is that the term is so loaded with negative and horrific connotations that it does not seem as though any political party will be rushing to describe itself as fascist in the future. For now, in terms of politics, it is a word consigned to history and to looking at those 20th century events in Europe which changed our part of the world irrevocably.
You might also like...