A Day in the Life of a Police Community Support Officer (PCSO)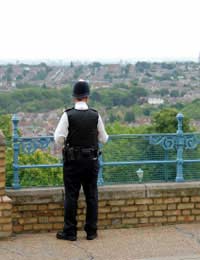 Police Community Support Officers, or PCSOs, are now an important part of policing in the UK. Introduced to back up regular police officers and create a more visible police presence on the streets, they are now a familiar sight on Britain's streets. Their uniform is similar to that of a police officer but their role is quite distinct. They usually deal with matters of anti-social behaviour rather than instances of serious crime. Here, we take a look at a day in the life of a PCSO.
No Such Thing as a Typical Day
The first thing to remember is that, much like regular police officers, PCSOs do not have a set day and there is certainly no such thing as a typical day. Due to the varying nature of the job, a PCSO never knows what type of day awaits them each morning and this is part of the appeal for many who take up the challenge of the job.
But there are things which PCSOs can expect, as Helen explains. "The variety is one of the things which make this job so appealing," she says. "But at the same time, there are things which do tend to crop up over and over again."
A day for Helen, who has been a PCSO for two years, usually starts off with a briefing about what has happened and what is happening at any one time. She may then go out with a police officer to investigate disturbances. However, she can also be sent out with another PCSO to patrol their area. One of the best things about having PCSOs is that they are given a very set area to cover which in turn, allows them the opportunity to get to know their patch, the people who live and work there and the issues which affect it.
Knowing the Community
Helen explains that knowing the area is vital to their job. "People recognise us and this gives them reassurance and a feeling that we are doing something, that we are helping them." After checking out their area, the PCSOs could then be called into action to apprehend offenders. They cannot arrest people, but, crucially, in the fight against anti-social behaviour, they may well have to confiscate alcohol or ask for names and addresses of people behaving in an anti-social manner. They can also issue fixed penalty notices which may well deter offenders from doing something again. This could be as simple as riding a bike on a footpath or it could be drinking alcohol where it is forbidden to do so.
But whatever the anti-social offence, people who live in the communities the PCSOs are operating in are reassured to see them carrying out these duties, and if a PCSO is patrolling an area, it can stop the perpetrators from doing whatever it was that was making people's lives unhappy.
"We have typical duties rather than typical days," says Helen. "But the thing which always makes the job worthwhile is when members of the communities we work in say thank you to us. This job is about improving quality of life for people and the way we know that we are doing the right thing is when people tell us so. That's the best feeling in the world."
You might also like...