Protecting Yourself While Making a Citizen's Arrest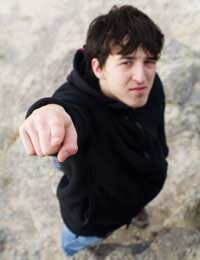 Protecting yourself while making a citizen's arrest is absolutely vital, in both a physical sense and a legal manner. The chances of a person who makes a citizen's arrest being either hurt or finding themselves embroiled in a legal battle are not slim so it is important to take all precautions to try to minimise the chances of this happening.
Protecting Yourself Physically
If you are on your own and about to make a citizen's arrest then it is you against the offender. This can often be down to a size and strength battle but the one fact which you can never discount is that an offender will be more desperate, and, of course, more likely to use excessive force to hurt you. After all, the fact that they have committed one crime shows they are not scared of breaking the law, so they may well not be too worried about breaking any more laws and hurting the person who is trying to stop them.
One thing to always bear in mind is the use of weapons. It can never be discounted that the person you want to apprehend has a weapon. The more serious the offence they are committing, the more likely this is. If they do have a weapon - a knife or a gun – then a citizen's arrest cannot be advised. Far better to call police who have the necessary equipment to deal with armed criminals rather than risk your own life.
If it is more a case of having the strength to detain the person, then if they do prove stronger than you and you are at risk of being seriously hurt, again, it is better to allow the police to deal with it, even if this takes longer. Always announce what you plan to do – if they know you are going to stop them, the element of surprise is taken away and they may be less likely to lash out.
Protecting Yourself Legally
As someone making a citizen's arrest, you have very limited powers with regards to what you can do. But the absolute imperative thing to remember is that you must be sure the person you are apprehending has committed, is committing or is going to commit a crime and there is not time to alert the authorities. A citizen does not have the same rights as a police officer, who can arrest someone they believe may be about to commit a crime or someone they suspect of having committed a crime. If a member of the public does this, it is just conjecture and if they are wrong, they face being taken to court themselves, possibly even for assault.
Always remember that a citizen's arrest is a last resort measure. It is something you do when the police will not be able to find the criminal or not prevent the crime being committed. But your safety and protection should be of paramount importance and you should never compromise these without thinking very carefully about the consequences.
You might also like...