The National Curriculum's Citizenship Course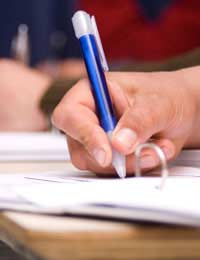 Although GCSE citizenship may be thought to be a test of how good a citizen a young person is, as with many academic interpretations of non-academic topics, the reality is far more prosaic. Pupils are expected to learn lots of topics and know how to interpret them in a way to pass exams.
Therefore, a child having a good knowledge of citizenship does not always follow that they themselves will be a good citizen. Like with vocational courses, examining a person's ability to be something is virtually impossible and therefore the national curriculum syllabus is the closest teachers can get to making sure their pupils at the very least, know what it means to be good citizens.
Coursework
Not all exam boards offer students the chance to do coursework as part of their GCSE in Citizenship but those that do are generally the more well-rounded courses. GCSE citizenship coursework can take many forms, but by far the most successful is when students are actually asked to write about their own experiences of helping as a good citizen.
This will usually be in the form of some sort of volunteering and the vast majority of students will have some experience they can draw on. This can be anything from voluntary babysitting to playing for a sports team and plenty in between. There will not be many students who do not have some practical experience they can draw on.
This type of coursework has the advantage that it makes each student think about their volunteering and why they do it or did it. It may even make them want to do more work in the community and could encourage them and their friends to be far more pro-active about helping others and being a good citizen.
Practical
Most citizenship courses take this one step further and expect students to do some kind of practical coursework, whereby they actually carry out some work in the community. For the best students, this works well and they will come up with their own ideas for helping the community around them.
However, the weaker students will simply be going through the motions and will see no value from their coursework. This is where examining 'what it means to be a good citizen' becomes tricky. They will end up having to do community work they are not interested in and will help no-one. Therefore, the best courses are those where the teacher can inspire every student to make the very best of themselves.
Examinations
Examinations are a different proposition altogether from coursework and all exam boards will expect students to sit a formal exam in citizenship. Again, the topics which can be found on the exam paper will vary from exam board to exam board but it is a certain bet that at some point in the exam. However it is worded, the pupil will be expected to demonstrate that they know what citizenship means and what it means to be a good citizen. The best candidates will be able to draw on practical examples and say how this proves the person was a good citizen, whereas weaker candidates will tend to churn out dictionary definitions they have learnt.
Every exam board is different but the above outline gives a good idea of how a citizenship course is delivered under the national curriculum. As with all subjects, a good teacher will make things better. However, the word of caution is that just because a young person scores an A in a GCSE, they are not automatically a good citizen, and we as a society should be wary of seeing this as an answer to some of society's ills.
You might also like...