Would You Pass GCSE Citizenship?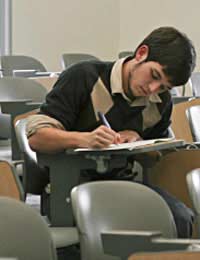 You may, as an adult, consider yourself a good citizen. You may think that you behave in the correct manner and carry out all of the tasks you would expect from a good citizen. But even if all of this is irrevocably true, it does not necessarily follow that you would pass GCSE citizenship. In fact, the opposite may be true, as GCSE citizenship is an academic interpretation of what it means to be a good citizen rather than an actual test of good citizenship in itself. So, if you are wondering if you would have any chance of passing GCSE citizenship, read on to find out what you would have to do.
Do You Demonstrate Good Citizenship Through Volunteering?Your good citizenship may be a willingness to help others and this may manifest itself through a variety of ways without any of them being a structured volunteering opportunity. You may do your elderly neighbour's shopping, or you could be the sort of person who will stand up for someone if they think they are being unfairly treated. But, unless you participate in a structured volunteering scheme, you may not pass GCSE citizenship. This is because most exam boards expect their candidates to demonstrate good citizenship in practise, which means that some students even have to organise things themselves, such as organising and taking part in a sponsored walk, in order to fulfil this criteria.
Could You Explain Why You are a Good Citizen?
Most students who take GCSE citizenship are required to complete at least one piece of written coursework as well. This usually takes the form of explaining why that student's actions are those of a good citizen. So, as well as volunteering and helping the community, students must also be able to show that they understand why their actions are good for the community and why their work makes the community a better place to live.
In addition, some exam boards also ask their students to submit written coursework suggesting ways in which the community could be helped by good citizens and the power of good citizenship. This means that not only would you have to be willing to volunteer but you should also have a steady stream of ideas for ways in which to make your community even better.
Do You Know What a Good Citizen Is?
A good citizen is actually a rather abstract idea and many of us would find it hard to vocalise exactly what we meant by that. But in many GCSE citizenship exams, students will be asked to tell the examiners exactly what they think is meant by a good citizen and what citizenship is. This means you must be able to articulate any ideas you have about citizenship and put them into coherent prose to convince examiners that you understand exactly what the value of citizenship is.
So, as you will see from the above, taking GCSE citizenship is not as easy as simply being a good citizen – it involves more jumping through hoops than that. But with some revision and coaching, an adult should be as able to pass as a 16-year-old.
You might also like...