Citizenship in the UK - English, Irish, Scottish or Welsh?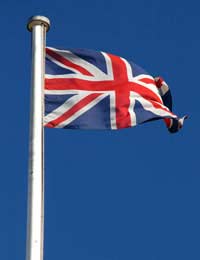 Citizenship in the UK takes on a very different dimension when you factor in the four countries which make up the UK. Although technically, citizens of the UK are known as British, depending on the person whom you ask, you may get the answer of British, English, Scottish, Irish or Welsh. And it entirely depends on the individual as to which answer you will get.
For outsiders, this can seem a little complicated and it is not hard to see why. People from other countries see us play sport at the Olympics as a British team but then also see teams in the football and rugby world cups under the titles of England, Scotland, Wales and Northern Ireland. London is the capital of the country, but Cardiff, Belfast and Edinburgh all assert their own rights to be called capitals as well. And if it was not confusing enough - many people will be offended if called British but they consider themselves Scottish or one of the other nationalities. And the mistake of calling a Scot, Welsh person or Irish person English is one which is even harder to forgive.
Devolution
The issue of devolution is a thorny one and one which complicates the idea of citizenship in the UK even further. The basic idea of devolution was to give the people in each country a say in how issues in that country were run. The Scottish Parliament at the moment has the most independence - which then leads to a notion called the West Lothian question. The West Lothian question basically addresses the situation which arises in the British Government where MPs for constituencies in Scotland can vote on issues affecting people in England - but people and their MPs in England cannot affect what happens in Scotland because their issues are dealt with by the Scottish Parliament.
A United Kingdom?
Whether or not the UK will ever be, or has ever been, truly united, in the hearts and minds of the people who live here is far beyond the scope of this article. It is a fact that many people from Scotland, Wales and Northern Ireland are keen to re-assert their independence from England and feel that England has ruled their countries for too long. But of course, like in every aspect of life, it would be unfair to generalise. Some people are keen to be British and embrace everything that this means. The best tip for outsiders is to always gauge what each individual feels before calling them British, Irish, Scottish or Welsh.
It is not this article's intention to enter into a full-scale debate of what it means to be British and whether devolution is a good thing or not. It is simply to inform the reader of the differences within the UK which mean that being a citizen of the UK and defining nationality in the UK is no cut and dried matter. This is no modern phenomenon. A glance at any Shakespeare historical play will demonstrate that there has been friction between the countries for a very long time. And Hadrian's Wall is testament to the fact that once the Scots in the north and Roman invaders in England were so desperate to be kept separate that such a feat was necessary.
Devolution looks set to continue, with greater powers being granted to the Scottish Parliament and Welsh and Northern Irish assemblies. Where this will leave England and the UK is unclear - but it will be an interesting topic to observe in the future.
You might also like...
Agree this is a really Anglo centric article but that is not unusual when an English person tries to tell the Scots, Irish and Welsh what they think or worse how they should think.Unfortunately this happens all too often.There is not even understanding the flag used in the graphics (the Jack) is an insult to most people in Wales as the English told us that it is now our flag and we WILL except it; yet there is NO representation of Wales in its make up at all.I personally am really insulted to be called British as this harks back to colonialism and the 'English' (sorry but it's true) leading the world in the slave trade.
Taff54
- 6-Jan-15 @ 12:28 PM
IRISH are NOT British...The MAJORITY IN NORTHERN IRELAND would be insulted if called IRISH.....Northern Irish & BRITISH..The NATIONALISTS do identify as IRISH, but even carry IRISH passports and deny THE BRITISH STATE...Is INSULTING too To The Republic of Ireland which has NOT been BRITISH for 90+ years....What a stupid ANGLO-centric article....Also we are part of a UK ..NOT RULED by ENGLAND.....
TSK27
- 11-Feb-14 @ 10:03 PM