What is the Third Sector?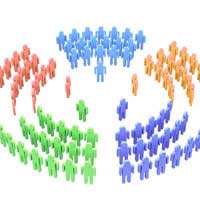 Many people hear the tern the third sector and associate it solely with volunteering. Although it is true that the third sector does have a lot to do with volunteering, that is not the sole preserve of the term. In broad terms, the third sector is that body of work which goes on outside the public sector, i.e. the Government, for the benefit of society. So, naturally, this does include charities and the like but also includes many more organisations. In fact, the third sector can be divided into three broad groups – community, voluntary and not for personal profit, which all have varying links and ties back to the public sector.
Not for Personal Profit
The first group this article will consider is not for personal profit. Perhaps the most distant from the traditional perception of third sector equalling voluntary groups, the not for personal profit sector includes a lot of organisations which, while independent in theory, are actually bodies set up by Government. Many of these fall into the category of quangos – quasi autonomous non-governmental organisations. This includes local government linked organisations such as social landlords and housing associations. These are all organisations which are working for society – but not directly as a result of being a Government department. This section can also include some unions and member-subscribed organisations.
Voluntary
Voluntary is the section which fits in neatest with the common perception of the third sector. Voluntary organisations are those which have volunteers give up their time for them but which also include a sizeable (or not) paid staff. This means that most major charities fall under this umbrella. Most of the nationwide charities, and even some of the smaller ones, employ trained and experienced staff to handle the running of charities while volunteers carry out fundraising opportunities and other events. These organisations work tirelessly for the benefit of society – but could not afford to pay staff etc with only fundraising from the public. Therefore, they often have to reply on grants from various sections of government.
Community
The community section is the one which slots most neatly into the coalition's Big Society themed plans. Community encompasses all aspects of those small voluntary organisations which do not get or sometimes even need, masses of funding from a central location. This can include organisations such as local residents' groups which want to spruce up a garden, or local churches whose fundraising sees that elderly local people get a hot meal on Christmas Day. These organisations are staffed entirely by volunteers and are usually an example of community in action and therefore exactly what David Cameron wants to see as the way forward for the country.
The third sector is vast in most Western countries. Due to its size, it often contributes a sizeable percentage of total GDP. But it is important to recognise how many organisations do fall under the umbrella of the Third Sector and that it is not staffed by volunteers in its entirety. The value of volunteers to an economy is huge but the value of the whole Third Sector is even higher.
You might also like...