The Role of News in a Free Society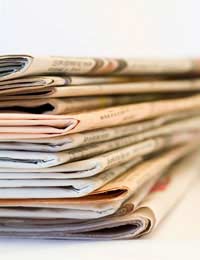 The role of news in a free society is one which is vital to that society being able to function in the way which makes it free. A key defining point of a society which is not free is that the press will be stifled and often under state control, with no room to criticise the powers-that-be. Thus, countries such as the UK, which enjoy complete freedom of the press have a major boost to their society - whether they realise it or not.
The Tabloid Press
There is much moaning done about the press in the UK, particularly the red top tabloids. Common accusations thrown at them include sensationalism and blowing things out of all proportion. But the truth is that their role is highly important because they are able to say whatever they like - as long as it is true - and as we have never not had that right, it is difficult to imagine a life without it.
But where would we be if newspapers, TV station, and internet publications were not prepared or even allowed to stand up for us and expose wrongdoing? We may not always agree with what they print - but the key thing here is that they are allowed to print it and there is no-one leaning on them to stop.
The Press Elsewhere
In some societies, Communist ones spring to mind, the only media available to the people is state media. This means that there is no criticism of the Government in any publication and everything which is done is portrayed in a positive light. In some countries, access to foreign websites is restricted so that non-state publications cannot even be read online. In such countries, people have no source of information about the wider world and about the fact that there are other ways of looking at the world.
Accountable Governments
The main role of news in a free society is to hold the powers-that-be accountable. This does not necessarily mean only the Government, but is likely to be that way. Anything a government in a free society does must be open to scrutiny and able to be criticised. This is what the press does. Their role is to inform people of events which have taken place, and crucially, responses to them.
The press may report it impartially, or with a political bias, but the key thing is that they are free to do this and not forced into it. When it has been reported, the people can make up their mind about events and whether they think the Government or other agency was in the right. But they then have the details and all the facts. They can even read it in more than one place to get a fully balanced picture.
News in a free society is absolutely imperative to the well-being of that society. Moreover, it is vital for the well-being of the people in that society for if they are not able to question the way their Government runs the country, then there may be other human rights infringements going on there too. If a Government does not want people to question its activities, something must be wrong. News and the media are inextricably linked with democracy and must be allowed to flourish.
You might also like...