What Makes News?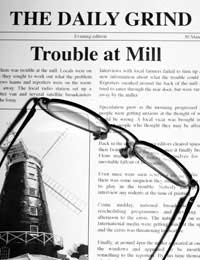 What makes news is not always as cut and dried an affair as it seems. Certainly in terms of the different media organisations it can differ widely, with the amount of space given to certain events differing wildly between one place and another.
The basic rules of what makes news though are that the public will be interested in it and that it is new information. After this, the different media organisations tend to set their own news agenda. Some front pages stories from one paper will not be picked up at all by another one while major stories from the TV may be covered only in brief in a paper.
Major Events
There are some major events that always make the news because their importance is so huge it cannot be underestimated. These are the type of life changing events for people the world over which newspapers devotes pages upon pages to and radio and TV stations hours of coverage.
In recent years, this has tended to be terror-related stories with 9/11 being the most notable. The day after 9/11 all papers carried stories with many pages about the events while all TV stations were virtually devoted to this world-changing event.
There are other major events that will always make news but not be quite so dominating. The death of the Pope a few years ago was one such example of this – with that and the subsequent election of a new Pope being reported in a variety of ways across the media.
Celebrity
Whether celebrities and their lives really make news is up to the individual to decide for themselves for there are certainly plenty of places they can read about them and also plenty of places they can avoid them.
Putting public interest and privacy issues aside for a second and it certainly would seem that celebrity news is news because many sectors of the public are interested in it and the majority of it which we hear daily is new. One possible place it falls down is that much of it is rumour or hearsay and so it is difficult to assess whether it is actually new or whether it is just one person's interpretation of facts we already knew.
But in today's celebrity driven culture, it is big business whether we agree or not, and while there are still people who will get annoyed if organisations such as the BBC devote time to covering celebrity stories, for the most part, those who want it can find it in abundance and those who do not can by and large avoid it.
Politics
Politics has made the news for centuries. But in the type of society we live in today, politics is not the draw it once was for many people. Thus, there are plenty of people who will argue that the minutiae of what politicians are doing and saying on a daily basis is not news, sometimes because it will never come to fruition and sometimes because they feel it is political point scoring and nothing more.
But much like celebrity news, politics is catered for very differently in all areas of the press. A story which a major broadsheet newspaper leads on may only be covered in a filler in a tabloid or possibly not even at all. These newspapers know what they want and also how to give it to their readership. The problems lie in places like the BBC who have to try to please all aspects of society and alienate no-one.
One thing is clear from looking at what makes news and that is that because there is so much information out there, no one could ever find out everything which is going on from simply watching one news programme or reading one newspaper. If someone truly wants to know about every aspect of news, from high to lowbrow, from politics to celebrity news, then they need to read and watch a broad spectrum of news.
You might also like...