All About Environmental Responsibility Ethics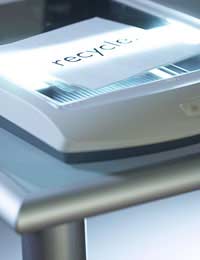 When you start looking all about environmental responsibility ethics you open up a whole debate about how businesses can learn to be more environmentally aware and responsible. Many businesses are starting to realise that they have to do more to help the environment and cut down on the ways in which they affect the planet.
To this end, many companies are also teaching their staff all about environmental responsibility ethics as well. The use of the word ethics in the phrase suggests that each individual may have a different set of values form which to work, but the important thing when dealing with a company and its environmental responsibility is that there is a joined up approach.
It somewhat defeats the object if every scrap of paper in one department is put for recycling but then the courier department uses many extra miles in a car to collect it all and take it away. It should, of course, be collected on other trips and not creating a whole new trip and set of carbon emissions of its own.
Corporate Social Responsibility
Corporate social responsibility is something which is employed by many bigger firms these days. The basic idea behind corporate social responsibility is that it is a way of making the company accountable for the impact its business has on the world around it. The upshot of this accountability can manifest itself in various ways but is most often used in the form of charity work.
Of course, this does encompass more than just the environment, but the environment is a large part of corporate social responsibility. Many companies will have days where their employees go and plant trees or do a litter pick, for example.
There have been criticisms that corporate social responsibility schemes can just be an empty gesture on behalf of a firm. But as consumers get more savvy and demand more accountability and openness from companies, the gestures must have more behind them and they must be backed up by substance.
A Good Example
Probably the best example of a company trying to be all about environmental responsibility ethics is Marks and Spencer. This giant of the UK retail scene has, in recent years, implemented what it calls Plan A. There is nothing empty about this gesture - it is a five year plan to tackle some of the biggest problems the world faces.
The biggest part of this is to make all of their British and Irish business carbon neutral by 2012 - a huge undertaking. But by putting in place proper plans and being completely open - letting the public see exactly where the business is with things - it is clear that this is one company which knows exactly what needs doing to be truly environmentally aware. The company has even called it Plan A, because, in its own words, there is no Plan B.
It is clear just from this one example that it is possible for a company to think all about environmental responsibility ethics. And if a huge company such as marks and Spencer can do it then so can a small one. And the benefits are numerous. Not only does the company contribute to the saving of the planet (a grand statement but a true one), but consumers appreciate the efforts.
Consumers are looking for green products and green ways of delivering services. And it will not be too long at all before companies which do not think about these issues are left behind and consigned to the dark ages.
You might also like...